Custom Orders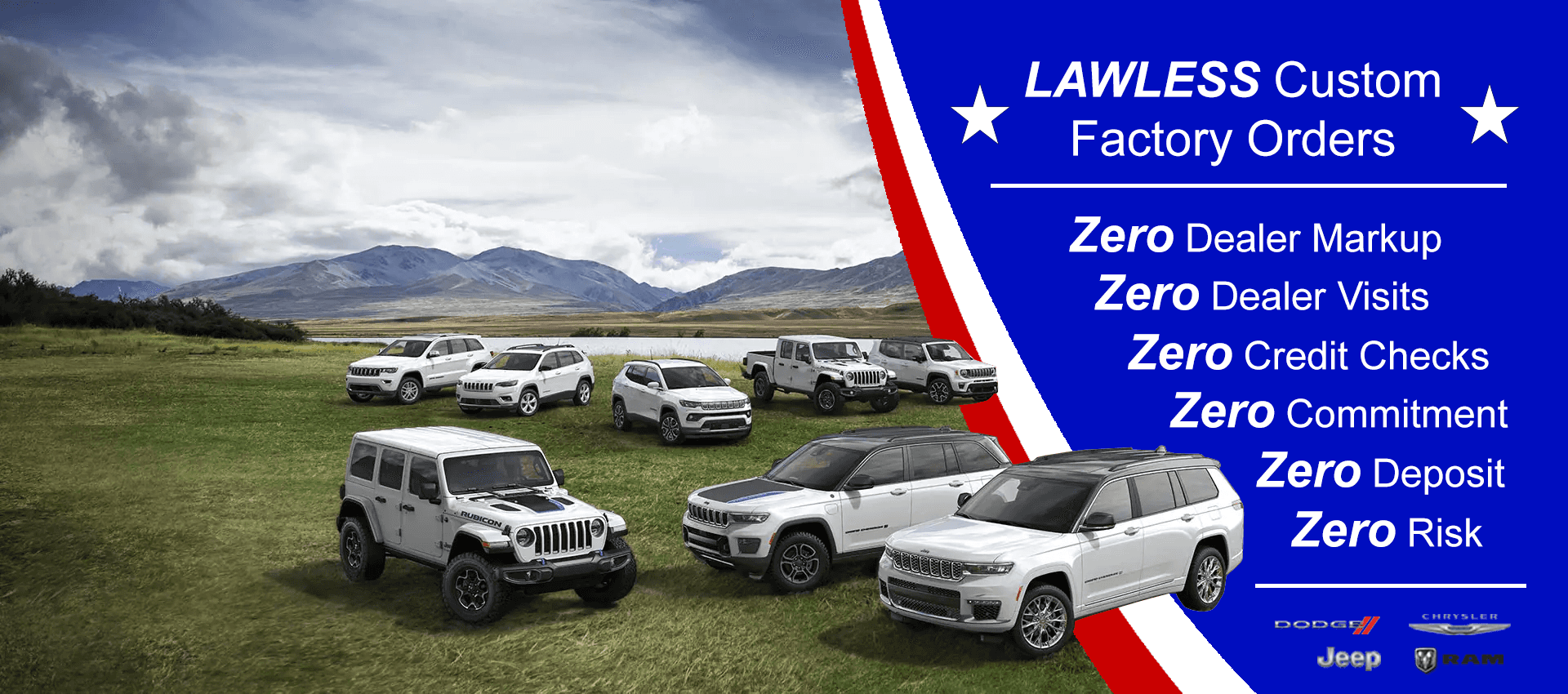 WHY? Advantages For Custom Orders
– Configure your next vehicle just the way you like it.
– Get all the color options and features you want.
– Don't pay for features you don't need.
– Personal name on the window sticker.
– Lock in Your Price.
– Savings. You get the best deal possible when you custom order with Lawless.
HOW? Steps to Saving when Custom Ordering
1) Start the process by getting in touch with one of our Order Specialists. We have three convenient ways you can initiate the process as we want to work around your schedule and preferences.
2) Once you have get an Order Specialist, they will carefully go over all your options for the custom order. They will give you all the pricing and latest available features for your desired model.
3) If you want to sell us your car, the Order Specialist can provide you with an offer to make the deal even more exciting for our customers.
4) After you have decided on your custom vehicle and receive the offer for your car then our Order Specialist will process the purchase agreement and order your new vehicle.
5) Custom vehicles receive top priority status at the factory which means you will get your vehicles as fast as possible.
6) Once your custom vehicle has been built, it will be directly shipped to Lawless Chrysler Dodge Jeep Ram. The vehicle will arrive with your personal name on the window sticker.
7) At this point all there is left to do is go over the Payment or Financing for the vehicle.
8) Last step is Delivery where you get to drive off with your New Custom Vehicle.
WHERE? Ways to Custom Order from Lawless
Phone
Call 781-622-9692 to speak to an Order Specialist now.
In-Person
Simply walk into our dealership and ask to speak with an Order Specialist directly. Our address is 196 Lexington St, Woburn, MA 01801.
Online
Simply fill out the short form below to be contacted by an Order Specialist. Please let us know in the description exactly which model you are interested in ordering.